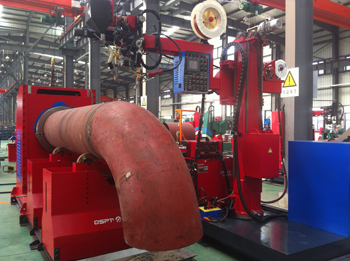 Multifunction Automatic Pipe Welding Machine (TIG+MIG+SAW, Cantilever Type)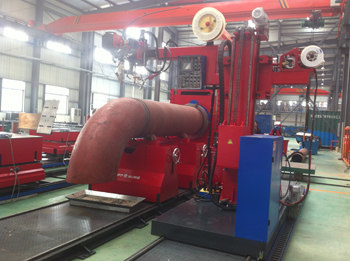 Multifunction Automatic Pipe Welding Machine (TIG+MIG+SAW, Cantilever Type)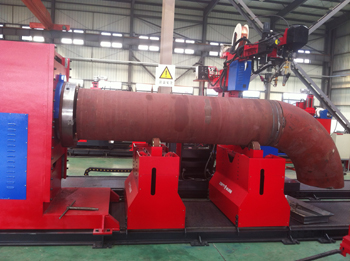 Multifunction Automatic Pipe Welding Machine (TIG+MIG+SAW, Cantilever Type)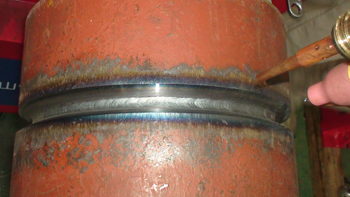 Multifunction Automatic Pipe Welding Machine (TIG+MIG+SAW, Cantilever Type)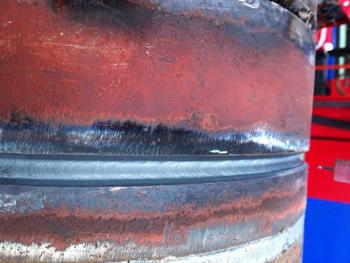 Multifunction Automatic Pipe Welding Machine (TIG+MIG+SAW, Cantilever Type)

Model: PPAWM-24Ba; PPAWM-30Ba; PPAWM-32Ba
Performance Features
1. The automatic pipe welding machine can be used in a production line, and it offers very high welding capacity up to 250-400inch/day, which is 4 times higher than manual welding.
2. It is easy for operation. A new user can learn to operate the machine within a short period of time.
3. The pipe welding equipment offers fine welding surface quality, with its welding gun placed in the optimum position.
4. The welding qualification rate is up to 98%. Generally speaking, the welding work performed by a skilled operator requires no re-work at all.
5. The pipe welding equipment offers reliable driving system. It has a mechanical clamping system for the position changing and fixation of the pipes.
Applications
The multifunction automatic pipe welding machine has a broad application range. It is applicable for cosmetic welding of pipe and pipe fittings with DN diameter not less than 150mm, in various industries. To illustrate, it supports welding of pipes and fittings made of carbon steel, alloy steel, stainless steel and cryogenic steel, and supports pipe-pipe, pipe-elbow, pipe-flange, flange-flange and flange-elbow welding works.
Key Components
1. Driving system: pipe welding positioner is adopted for driving, and the pipe is clamped by 2, 3, or 4 jaw chucks
2. The automatic pipe welding machine is designed with a trolley system on which the welding system is fixed. Thus, the welding system can be moved along the track to fulfill welding at different positions of workpieces.
3. Bracket System: it is trolley separated from the welding equipment, and can be adjusted along the track according to the length of the pipeline.
4. The machine requires no counterweight system.
Technical Parameters
1. Pipe diameter: DN50-600 (φ60-610), DN150-750 (φ159-762), DN:200-800 (φ219-813), DN300-1000 (φ325-1016), or customizable
2. Pipe wall thickness applicable: 3-60mm
3. Speed regulation mode: VF stepless speed control
4. Adjustment Mode: manual adjustment via a cross-shaped regulator
5. Control system: a product of our patented technology, PLC control with touch screen.
6. Welding procedure: TIG+MIG+SAW for spool piece automatic root pass, fill in & final welding at the same station.
7. Welding Power: With Lincoln Welding Power Source (or as per customers' demands)